You can download the most recent version of CODIJY Colorizer Pro & CODIJY Recoloring from the Downloads page.  
If you have installed CODIJY trial, there is no need to download CODIJY software once again! All CODIJY tools run in the trial mode for the first 15 days, unless you register them with the License Key.
After the recent update, some of our users have noticed that Windows Smart screen blocks the download of our software in Edge browser. We guarantee that our products are 100% clean and were duly signed by the valid code signing certificate issued by COMODO, the authorized security organization. To fix this upsetting situation, we have timely submitted our files for review to Microsoft and they cleared all of them as clean. Still some of our users keep experiencing the problem with downloading CODIJY. If you happen to face it, please use any other browser to download CODIJY software. You can also learn how to bypass the security filter in Edge from this article by Windows Central.
1. Copy the License Key from the email 
2. Paste it into the Registration Dialog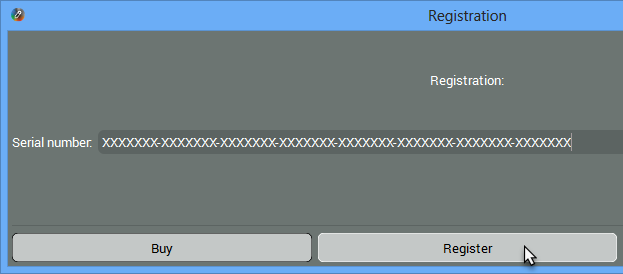 3. Click Register.
4. Close & reopen CODIJY 
5. Perform several actions – draw a couple of strokes or click Image Processing.
NOTE: AFTER YOU COMPLETE THE ABOVE STEPS, it may take a couple of  seconds for CODIJY to begin running in the registered mode. When it happens, you will see that the watermarks are gone from the result preview. 
During the trial period, CODIJY does not ask you to enter your license key. To register your copy, please open the registration dialog using the following methods: 
Click  the Register button:
Go to About – > Register
Please read about all options of accessing the registration dialog in CODIJY. 
There are a couple of reasons why your attempts to register CODIJY may fail:
MISTYPES: 99% all failed registration attempts are caused by mistypes.  CODIJY keys are long and may contain lookalike symbols like "1″ and "I",  Zeros  and "O". If you received your your serial number by emails we strongly recommend using Copy & Paste command. 
If you purchased the boxed version of CODIJY with printed License Key, make sure all symbols are correct. If the registration fails, please send us the whole or the part of the key as you see it and we will do our best to locate and email you the correct Key. 
Other potential reasons causing failed registration may include:
Reason #1: WRONG EDITION: Make sure you have downloaded installed the right edition of CODIJY. there are exist two editions Colorizer Pro and Recoloring.  
Reason #2: WRONG KEY: Make sure you are not copying any other number in your Purchasing Email. CODIJY License Key has 56 symbols excluding dashes the following format:

Reason # 3: OLD KEYS:  If you have purchased CODIJY before August 2015, please contact us and we will update your key.
IF YOU PURCHASED CODIJY VIA CODIJY.COM
To recover your license key, please email us the Key recovery request from the email box that you used when you purchased our software. 
IF YOU PURCHASED CODIJY VIA ONE OF OUR PARTNER SITES AND ENTERED YOUR SERIAL NUMBER IN THE REGISTRATION DIALOG
Please email us the Key Recovery Request from the email box that you entered when registering our software. 
IF YOU PURCHASED CODIJY VIA OUR PARTNERS BEFORE 2018
Unfortunately we don't have access to the customer information of our partners. If possible, please contact the seller of the product to recover your license key. Still if you want to get in touch with us, please specify that you have purchased our product through a partner and we will reply with recovery instructions. 
CODIJY allows you to open:
JPG – Joint Photographics Expert Group
JPEG – Joint Photographics Expert Group
PNG – Portable Network Graphics
BMP – Windows Bitmap
PBM – Portable Bitmap
PGM – Portable Graymap
PPM – Portable Pixmap
XBM – X11 Bitmap
XPM – X11 Pixmap
TIF – Tagged Image File Format
TIFF – Tagged Image File Format
WBMP – Wireless Application Protocol Bitmap Format
We are not adding the color opacity control options, as you can achieve same results by adjusting Hues, Saturation and Brightness.  Many of our users who asked for this function finally found the HSB Repaint tool as useful for this purpose.  
After you have drawn a gradient stroke, you still have the option to fill it with another, best-matching gradient template. Once you are satisfied with result,  apply your last chosen gradient with the click of the button in Gradient Settings or press "B".