Colorization is a labor of love. Dive into the world of photo colors with the confidence that you will achieve high quality colorized results!
Grace Kelly. Colorization of Chris Fahning . 
The stroke-based masking technique owes its simplicity to built-in border detection. When you add colors to the adjoining areas, the program will identify and respect the common boundary, even if your strokes do not follow it precisely.  
This stroke technique is very helpful for dealing with patterns, crowds, interiors and street scenes and will save you many hours of work!
CODIJY colorization algorithms automatically analyze and apply the matching tone of your chosen color for each pixel of grayscale. This allows the realistic reproduction of most challenging photo subjects like portraits!
100 Color Libraries provide you with palettes for almost any theme including appearance, outfits and surrounding subjects.
Amazing Gradients feature allows you to add multiple color with a single stroke!
Take advantage of ready gradient templates for all frequents photo objects. Edit gradients to match your photographs.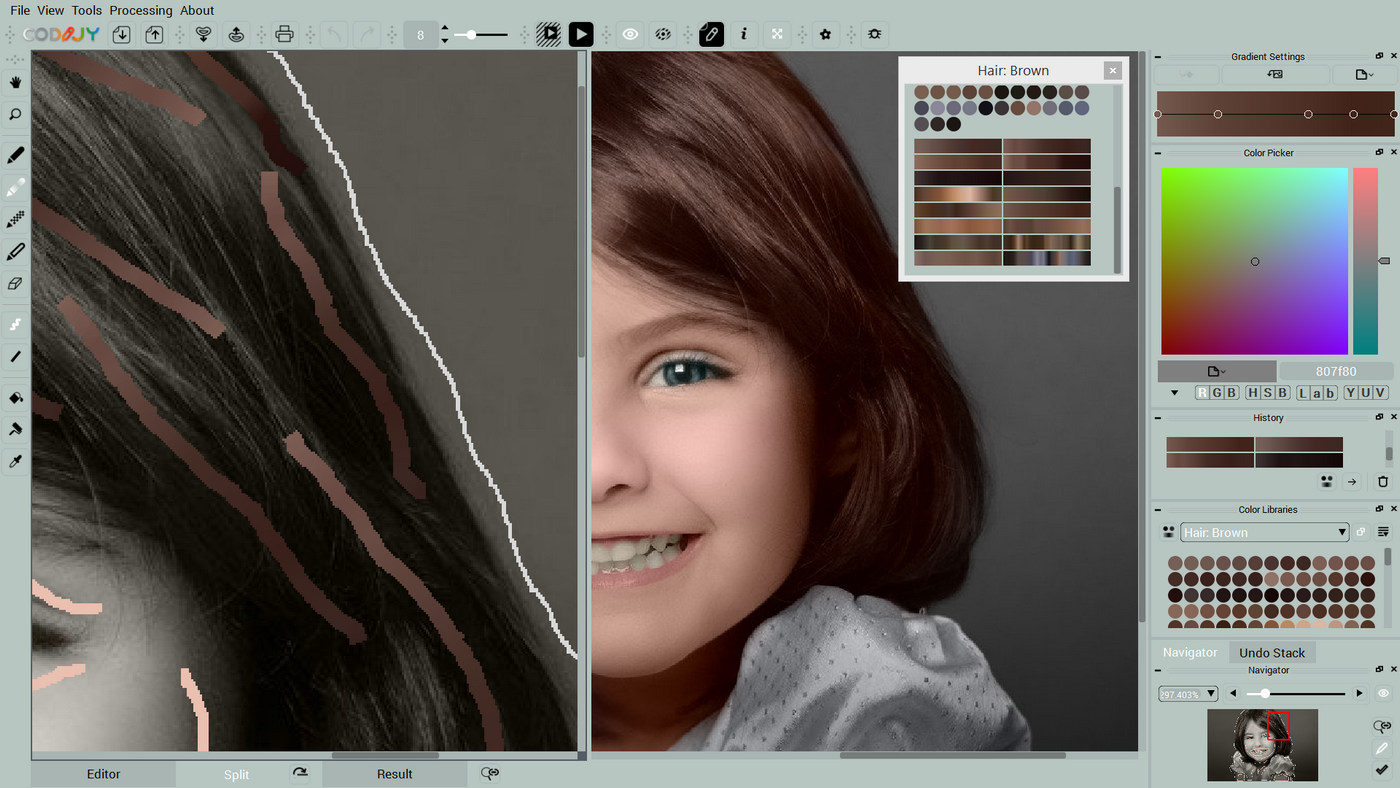 Capture and use custom gradients to reproduce natural colors of facial and landscape features with less effort!    
Once you enable the Instant Preview mode, CODIJY will generate a colorized preview in the real time.
Organize CODIJY toolbars and windows in a convenient way. Switch views, navigate and zoom  image without quitting the drawing mode!
Windows 7 or higher
Mac OS 10.13 or later
Image Formats: JPEG, PNG, TIFF and other
CODIJY Formats: MGD CMSK, CML
Wacom tablets
Tablets running Windows
English, Spanish, French, German, Japanese, Polish, Italian, Slovenian, Czeck, Ukrainian, Russian
Start Colorizing with CODIJY Today! 
Packs in tutorials, lessons, training examples , User Manual